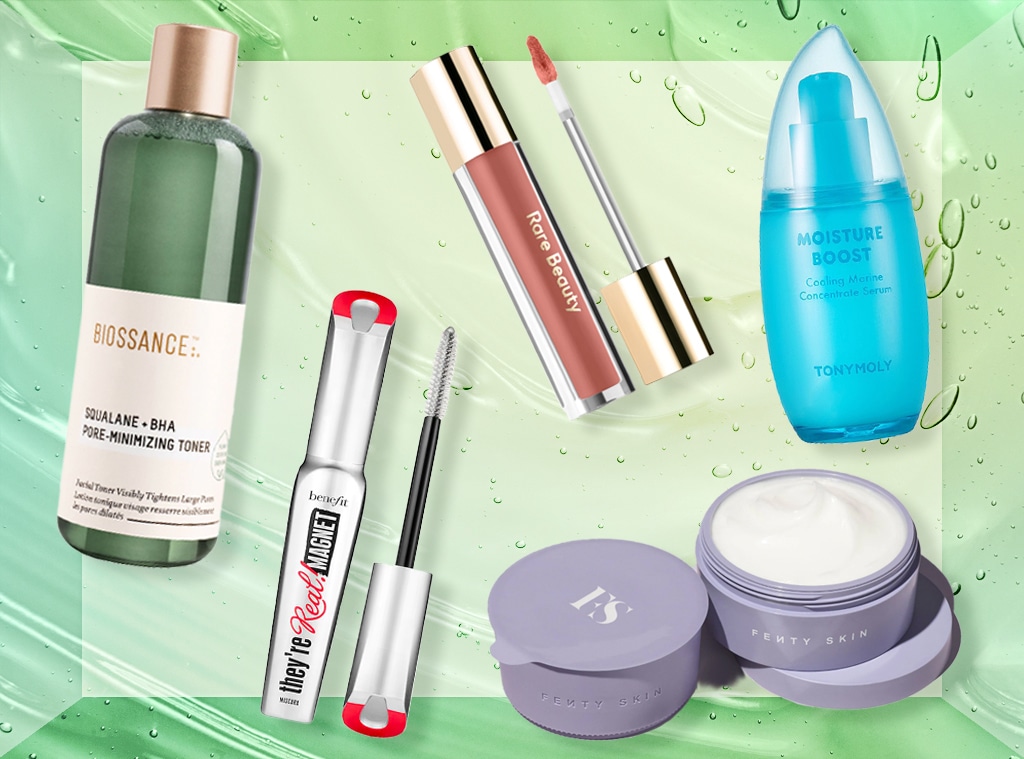 E! Illustration
We independently selected these products because we love them, and we hope you do too. Shop with E! has affiliate relationships, so we may get a commission if you purchase something through our links. Items are sold by the retailer, not E!.
Like fashion, beauty has the power to whisk you away from reality and offer some sense of solace. This is not an exaggeration, either.
Following the aftermath of the 2001 recession, the term "lipstick index" was coined by Leonard Lauder, the former chairman of Estée Lauder. Interestingly, lipstick sales began soaring during that time of hardship with the Lauder heir explaining, "Women facing an uncertain environment turn to beauty products as an affordable indulgence while they cut back on more expensive items."
While lipstick sales aren't necessarily skyrocketing these days due to mask mandates amid the coronavirus pandemic, that doesn't mean brands have slowed down with new beauty releases.
Luckily, E! News tested out a few makeup and skincare goodies that are not only delightfully innovative and interesting but practical for everyday wear! From a one-of-a-kind skincare device to magnetically enriched formula, read our review below!
They're Real! Magnet Extreme Lengthening Mascara
For those days you want look-at-me lashes, Benefit Cosmetics' They're Real! Magnet Extreme Lengthening Mascara has your needs covered. With one coat, my lashes were instantly sky-high. And after all, the product was developed with this effect in mind—thanks to its attractive capabilities. The magnetic brush draws in and pulls the magnetic formula, making it lift and lengthen your lashes. This mascara immediately adds drama to your eyes, while also being long-lasting and flake-free.
Droplette Device
This little lavender device is small, but mighty! Like its name, Droplette transforms power-packed serums—such as retinol, glycolic acid and collagen—into tiny droplets that penetrate the skin through a micro-mist. Per the brand, the device delivers about 50% more water than topical skincare products. So, if you've been in desperate need of a facial, this tool is just what the doctor ordered. I personally noticed fewer fine lines and a more even skin tone after a few weeks of use.
Butta Drop Whipped Oil Body Cream
I know I'm not alone when I say that I typically skip the body care portion of my beauty routine. However, that's changed ever since Fenty Skin released its delectable Butta Drop Whipped Oil Body Cream. Not only is the tub massive, which makes me feel guilt-free for slathering it all over, but it's loaded with deeply nourishing ingredients like tropical oils, butters and extracts. But don't let this list deter you, because it doesn't leave a greasy or sticky mess. Instead, this delicious blend will leave your skin feeling smooth and soft.
Natural Finish Fluid Foundation
These days, the makeup motto is less is more. While I rarely put on a full face, there are times when I want to feel glam. Lately, I've started opting for makeup that is weightless, like Gucci Beauty's Natural Finish Fluid Foundation. The foundation looks like your skin but better, and comes in 40 shades. And just because it gives a natural finish doesn't mean it lacks coverage. The foundation flawlessly concealed the inflammation around my cheeks and the breakouts on my chin. What's more? The formula is not only lightweight, but it's long-wearing even without a setting powder.
Daycation Whipped Cream Blush
Give your skin that lit-from-within glow with Bite Beauty's new Daycation Whipped Cream Blush. Available in four dreamy shades—a luminous peach, warm bronze, a glimmering pink pearl and dazzling berry—this product offers radiance in a bottle. Plus, the lightweight texture and mousse-like formula effortlessly blend into the skin. One major thing to note: Because the tube is very sturdy, it's best to squeeze the blush onto the back of your hand and dab it on your cheeks from there.
Power Sleep Melatonin & Glycolic Night Cream
A de-stressor in a bottle! Bad Habit's Power Sleep Melatonin & Glycolic Night Cream is jam-packed with ingredients that deliver both results and relaxation. Before bedtime, I slather on the moisturizer to give my skin an extra boost of hydration, which contains both hyaluronic acid and glycerin. Plus, the added melatonin helps to fight damaging free radicals, like UV exposure and daily pollution. After all, it's a skincare ingredient that's praised by dermatologists for its powerful payoff. My favorite thing about this product though is the lavender and chamomile essential oils, which provide soothing comfort.
Replica Matcha Meditation Eau de Toilette Fragrance
Here's the tea—Maison Margiela brewed its finest Replica fragrance yet. The Replica Matcha Meditation Eau de Toilette Fragrance will awaken your senses with its fresh blend of bergamot and green tea, which smells both sweet and calming. Other notes mixed in the bottle are white chocolate, moss and cedarwood. All in all, it's the easiest way to boost your mood and kick start your day.
Armor + Lip Set
If you want to spoil yourself, look no further than this Valdé Beauty Armor + Lip Set. Although this kit comes with a hefty price tag, know that it's worth every penny. For one, the brand undoubtedly proves that makeup can and should be a form of art. Each package in the kit features an armored case that is lavishly adorned with feathers and coated in liquid gold. Moreover, the lipsticks come in a refillable tube, so you can switch things up without feeling guilty about adding more waste. But best of all, the actual formula is deliciously creamy and glides on seamlessly. Get it in eight highly pigmented shades.
Major Sculpt Creme Contour & Powder Bronzer Duo
While contouring isn't super popular these days, that doesn't mean enhancing your cheekbones and adding a little glow to your skin is out of style. Case in point? Patrick Ta released a new must-have product. The Major Sculpt Creme Contour & Powder Bronzer Duo gives you the best of both worlds: a cream and powder formula in one. The cream product is not only easy to blend, but it allows you to sculpt and shape your face with subtlety. Dust on the powder for extra radiance.
Moisture Boost Cooling Marine Concentrate Serum
Stay hydrated this spring and summer...and, no, we're not just talking about drinking your water. TonyMoly's Moisture Boost Cooling Marine Concentrate Serum will add a major splash to your beauty routine with its cooling and nourishing properties. The product is jam-packed with hydrating and anti-inflammatory ingredients, such as chlorella, seaweed and ice plant extracts. Plus, it will quench your skin's thirst, as it's infused with three different weights of hyaluronic acid.
Brow 1980 Volumizing Eyebrow Pomade Gel
With mask mandates still in effect, brows are front and center more than ever before. The product giving me enviable brows? Merit's Brow 1980 Volumizing Eyebrow Pomade Gel. From the tinted color to the thick brush, this item makes it simple to fill in sparse hairs—no matter if you're opting for a bold look or want something more natural. What's more? The formula is long-lasting and smudge-proof, so you don't have to worry about touching up throughout the day. The luxurious gold casing is an added bonus.
Velvet Story Lip Cream
Get ready to pucker up to Hourglass Cosmetics's Velvet Story Lip Cream, which glides on like butter and offers a vibrant pop of color. Available in six everyday shades (like a rosy pink, honey beige and warm berry), you'll want to wear it on the regular—no matter if you're lounging at home in your pajamas or getting ready for a Zoom call. Moreover, the velvety texture goes on smoothly and leaves the lips feeling soft and nourished.
Venus Radiant Skin Starter Kit
Not to get too TMI, but nothing is worse than having stubble or razor burn, especially down there. That's where Gillette Venus' new product comes in. The brand partnered with Olay to release a one-of-a-kind razor: The Venus Radiant Skin Starter Kit, which exfoliates, shaves and nourishes your skin all at the same time. With the touch of a button, a dab of moisturizer dispenses from the razor, immediately giving you smooth and soft skin after each use. Tyrese Gibson, are you hearing this?!
Future Perfect Water-Optional Cleanser
Finally, a foaming cleanser that doesn't dry out your skin! Cover FX's Future Perfect Water-Optional Cleanser removes makeup and cleanses your face without stripping your skin of moisture. And as someone who is picky about how I wash my face (I prefer to cleanse in the shower), you can use this product with or without water. Best of all? It truly gets rid of budge-proof makeup, like mascara, eyeliner and liquid lipstick. Most of the time, I'll need to double cleanse when I wear on makeup, but this gets the job done in one shot.
Want to do a little more shopping? Check out the 10 must-have items at Nordstrom and support these amazing Asian-owned brands.
Want the latest and greatest deals and celebrity must-haves delivered straight to your inbox? Sign up for the Shop With E! newsletter!