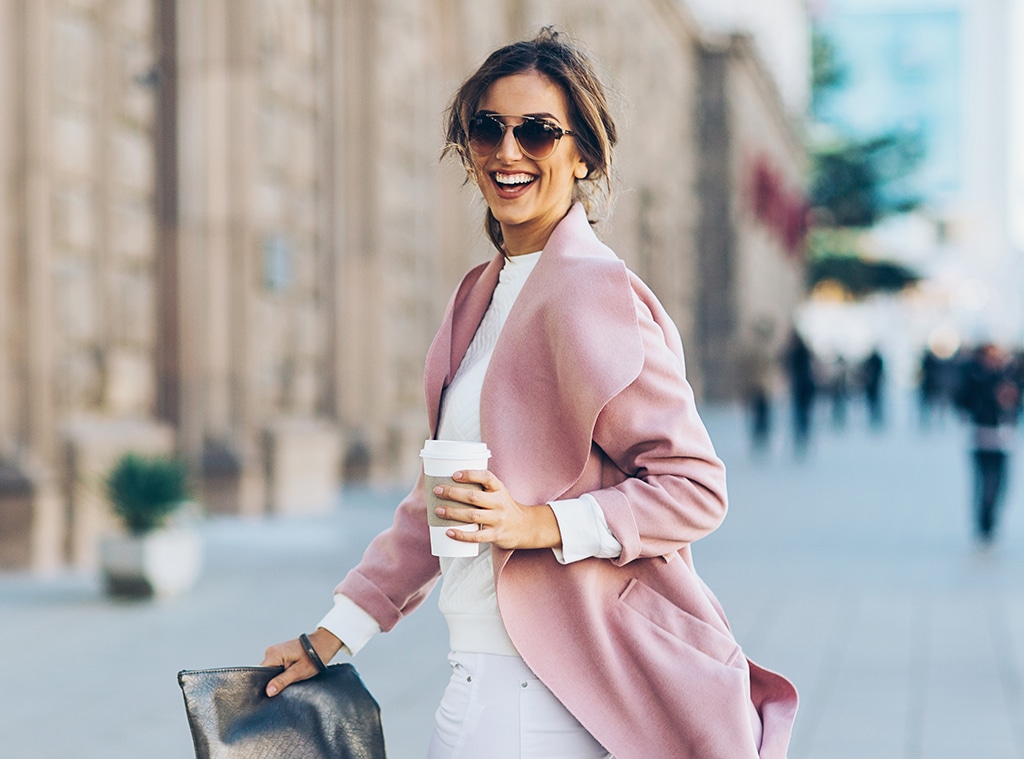 Getty Images
We independently selected these deals and products because we love them, and we hope you do too, and we think you might like them at these prices. E! has affiliate relationships, so we may get a commission if you purchase something through our links. Items are sold by the retailer, not E!.
Do you ever wonder how fashionable your wardrobe would be if you just had an unlimited clothing budget? We all have at some point, but, with a little creativity and some smart shopping, you'll see that you don't need to sacrifice style for the sake of your bank account. There are some inexpensive purchases that you can make to elevate any outfit.
Sometimes, it's just all about the accessories. A headband can take your look from casual to sophisticated immediately. A comfortable pair of shoes can make your outfit look incredibly luxurious. A beautiful piece of jewelry can be just what you need to complete your ensemble. And, of course, we can't forget about the necessities. A clothing steamer is an absolute must. There's nothing fabulous about a wrinkled shirt. Keep on scrolling to see some of our other budget-friendly outfit upgrades.
Pearl Hair Clips- 18 Pieces
18 pearl hair clips for $8 is a tough deal to pass up. These beautiful clips are great for a special event or you can just add a little fun pairing these with a casual look.
Nuzon Flat Snake Chain Herringbone Necklace
Wear this herringbone necklace as a choker or you can use the chain extender to give it a little extra length. If gold jewelry isn't your vibe, it's also available in silver. One Amazon customer raved, "Love this necklace. Great deal for the super low price point. I've gotten many compliments on it! I've only worn it for a few hours at a time." Another shopper insisted, "If you're looking for an inexpensive chain that looks real, buy this chain..it's gorgeous"
Arqa Leather Slip On Fur Mule
We are just loving oxfords and loafers for fall. These slip-on mules look incredibly luxe and they feel incredibly with thanks to the faux fur. These elegant, easy-to-wear, shoes are available in several colors in both velvet and leather.
Mevecco 14K Gold Plated Cute Beaded Satellite Dainty Handmade Bracelet
This dainty layered bracelet is just too beautiful to pass up, especially at this $14 price point. An Amazon shopper raved, "I love this bracelet! It looks and feels way more expensive than it is. It pairs well with virtually everything, and there are tons of similar necklaces, earrings etc. right now to match it with." And that wasn't the only happy customer. This bracelet has 5,000+ five-star reviews.
Valloey Rover 14K Gold Plated Dainty CZ Dainty Diamond Stackable Ring
This two-bar gold ring is the epitome of minimalist chic. You can even adjust its size to fit on different fingers, which means you're basically getting multiple rings in one purchase. This ring looks beautiful on its own or stacked with some of your favorites.
The Drop Women's Avalon Small Tote Bag
This is a "stylish and inexpensive bag that elevates any look," an Amazon shopper shared, and we cosign that recommendation. This unique back is functional, fashionable, and well-designed. It's available in black, brown, ivory, red, silver, olive, and nude. The Avalon Small Tote bag was also featured in Shopbop's (super chic) curated Amazon collection.
Hilife Steamer for Clothes
This isn't a fashionable accessory, but it's a must-have secret weapon for anyone who wants to look their best all the time. Wrinkles are not fashionable. Instead of taking your clothes to get pressed or whipping out the iron, just steam away those wrinkles. This clothing steamer has 36,200+ five-star Amazon reviews.
Musshoe Mules for Women
Bachelor in Paradise alum Jade Roper Tolbert recommended these slip-on, pointed toe flats in her roundup of fall fashion picks. Just slip your feet into these flats to bring some casual elegance to your everyday wardrobe. There are several different colors and patterns to choose from. These shoes are available in leather and suede.
Funtopia Knotted Headbands- Set of 9
These knotted headbands exude such Gossip Girl vibes. These fashionable and comfortable-to-wear headbands come in a set of nine, which is an unbeatable bargain. More 3,500 Amazon shoppers left five-star reviews for this set.
Joopin Polarized Sunglasses for Women Vintage Big Frame
Big sunglasses are just the epitome of glamour, but you don't need designer sunglasses to get that same sophisticated look. These are just $15 and they're available in a few different colors. These have 6,300+ five-star reviews, with one shopper writing, "They look expensive! These are perfect!" Another said, "This is the favorite purchase I made for myself this year! I paid around $15, and they have a far more expensive look. They're also comfortable. I love having polarized lens too!"
Dollger Rectangle Sunglasses
Big round sunglasses are always glamorous, but smaller rectangular frames are definitely having a moment right now. Get in on the trend without going over budget. You can't go wrong with black or tortoise shades, but there are also some unique colors that are worth trying out, especially at this price. These shades are just too cool to pass up. Just check out the 4,400+ five-star reviews.
Mevecco Layered Heart Necklace Pendant
This two-layer necklace has 8,800+ five-star reviews from happy Amazon shoppers. This is a piece of jewelry that you can wear all the time, whether you're dressed up or dressed down. No matter what outfit you have on, this elevates the situation.
Vabovin Women's 35' Satin Square Silk Like Scarves
A silk scarf is just so classy. You can tie one around your ponytail, the strap of your handbag, or around your neck. You can make an ensemble look incredibly sophisticate with the right scarf and this one is available in a few different prints. This scarf has 4,800+ five-star Amazon reviews.
Milla Highstreet 925 Sterling Silver or 14K Gold Plated Stackable Open Link Ring
If you're looking for an inexpensive ring that's hypoallergenic and tarnish-resistant, this one is available in sterling silver and gold. The only worry you'll have is figuring out the other jewelry you're going to wear with your new favorite ring.
The Drop Women's Preston Belt Bag
This embossed croc bag can be worn as a belt bag on your waist or you can get Gen-Z with it and wear it across your body. The Drop Women's Preston Belt Bag comes in black, brown, olive, and a nude snake print. Porsha Williams included this chic, little bag in her list of fall fashions and it was also a part of Shopbop's Amazon curation.
14K Gold Plated Bead Ball Bracelet Stretchable Elastic Bracelet- Set of 5
You can never have too many gold bracelets. An Amazon shopper shared, "The quality on this bracelet is top-notch and does not look or feel inexpensive at all. And it has a decent amount of weight to it and feels like a very expensive bracelet." Plus you get 5 different bracelets, which is quite the deal!
Sidefeel Women Casual Blazers Open Front 3/4 Sleeve
Pair this blazer with any top to take your look from casual to work-appropriate, and even to full-on chic, depending on how you style it. You can even get super sophisticated and just wear it on your shoulders without putting your arms through the sleeves. It's available in several prints and solid colors, which should make it easy for you to find the perfect complement to the rest of your wardrobe.
Brook + Bay Ear Muffs for Women
Say goodbye to cold ears and bad hair days. These keep your ears warm, hold your hairstyle in place when it's windy, and they also fold easily to fit inside your bag. They are available in black, grown, grey, pink, and white. There are 3,200+ five-star Amazon reviews praising these as the go-to winter accessory.
Fxmimior Dainty Boho Chain Bracelets Set of 4
If you want to stack your bracelets, but you have no clue where to begin, just buy a set. This set of four includes textured bracelets that complement each other and the other pieces you own. Plus you can wear each bracelet alone too so the styling possibilities are truly endless. Oh, and you really cannot beat this price. You'll see the textured jewelry trend everywhere this fall.
Asos Design Oversized Ruched Clutch in Beige With Detachable Shoulder Chain
This bag looks like it's designer, but it's just $32. You can carry it as a clutch or you can attach the strap and wear it on your shoulder. You will receive endless compliments on this one.
M Mooham Dainty Gold Initial Bracelets for Women, 14K Gold Plated
These dainty initial bracelets are cute, lightweight, and, of course inexpensive. There's something so special about personal about initial jewelry, which is why it's a great way to elevate your look.
American Trends Women's Fall Winter Scarf
An ultra soft plaid scarf is the finishing touch you need for any fall or winter look. A scarf that coordinates with your jacket just looks so fashionable, but in that effortless sort of way. This scarf comes in 26 different colors and patterns. It has 6,200+ five-star reviews, with one Amazon shopper writing, "it is gorgeous and easily looks more expensive than what it is!"
Musshoe Mules Closed Pointed Toe Backless Loafers
Upgrade your look with these bow-adorned, backless loafers. You can also get these same loafers with knot and tassel adornments in nude, black, and tan. Plus, a backless shoe means no blisters, which is always a good thing.
Luvamia Blazer
We all need a black blazer in our closet. It's the perfect way to take any outfit from drab to fab. Whether you're headed into the office, a dinner with friends, or just running errands, you will look and feel put-together if you throw this on over your outfit. And, of course, there are other options to choose from, especially if you're looking for a pop of color.
Magnasonic Professional Ultrasonic Jewelry Cleaner with Digital Timer for Eyeglasses, Rings, Coins
Your jewelry will look a millions times better if it's clean and shiny. Do you have makeup or fog on your eyeglasses? Clean those too. Don't underestimate the style impact of clean accessories. Plus, a little extra cleanliness is always a good thing. This jewelry cleaner has 17,700+ five-star reviews.
Asgard Women's Ankle Rain Boots
Staying safe and dry in the rain is essential, but it's also an opportunity for fashion. Rain boots don't have to be tacky or outrageous. They can actually be quite chic. These just look like leather booties, but they're actually waterproof rain boots. They're available in a few other colors too. These rain boots have 11,900+ five-star reviews.
Furtalk Womens Winter Scarf Cashmere Feel Pashmina Shawl
Get that cashmere feel for just $16 with this scarf. If you need to bundle up anyway, you might as well go for some luxe cashmere vibes. This scarf comes in so many colors, so you can have one to match each coat.
One Amazon shopper shared, "Second one I bought and also a beautiful color that looks just like the picture. Looks more expensive than it is." Another gushed, "I can't say enough about these scarves. I bought 4 of them!! They look and feel so expensive."
Jewelrieshop Faux Pearl Stud Earrings 5 Pairs, Stainless Steel Hypoallergenic Starter Set
Pearl earrings are just so classic. This set comes with five pairs in different sizes. Sure, earrings at this price sound too good to be true, but one Amazon shopper shared, "I bought these earrings years ago and have worn them many times and many places." Another said, "I have sensitive skin that breaks out and swells up wearing cheap metal, and these do not bother me at all. They are definitely hypoallergenic. You can't beat the amount of earrings you get for the price! I highly recommend them."
Amazon Essentials Women's Long-Sleeve Plush Peacoat
A peacoat just adds such polish to any look. You can be wearing an old t-shirt underneath and you'll still look put-together with a nice peacoat on over it. This one comes in black, grey, camel, and navy. This one even has an extra button at the neck in case it's super cold and you really need to bundle up.... or conceal an old band t-shirt you may be wearing underneath.
Boottique Boot Snugs Boot Clips- 6 Sets
Bunched up jeans are just not it. Clip these on the end of your pants when you tuck them into your shoes so you'll never have to worry about your jeans bunching up again. You'll be surprised by the impact these will have on your look.
Turandoss Gold Layered Necklaces- 3 Necklaces
That effortlessly chic layered necklace look isn't usually so effortless. If you don't want to spend time trying to figure out which strands go together best, just get this three-piece set. You can wear all of them together, choose two, wear one on its own, or even mix and match with necklaces you already have. Layered necklaces are just so fashionable and no one would ever guess that this whole set costs just $15.
Sakkas Silky Solid Soft Pashmina Shawl Wrap
Add a touch of elegance to any look with an incredibly soft wrap. This is just what you need for wedding season, but why stop there? You can throw one of these over a basic white tank top with jeans and look instantly chic. This wrap comes in 41 different colors.
Dasein Work Bags with Matching Clutch
Just because it's work bag that doesn't mean you have to pass up on style. This bag has room for all of your essentials and it comes with a matching clutch to store your small essentials. This burgundy red, faux croc leather is just so luxurious looking. These sets are available in a few different colors.
Pavoi 14K Gold Colored Lightweight Chunky Open Hoops
A simple pair of hoop earrings are the perfect way to top off any outfit. These small hoop earrings are lightweight for comfortable everyday wear. They're available with white gold, rose gold, and yellow gold finishes. The earrings are hypoallergenic, made from nickel with a stainless steel post. These are love by more than 23,000+ Amazon customers who left 5-star reviews.
Gamisote Women's Cape Blazer
If you admire those women who can pull off that whole blazer-on-the-shoulders look, but you're wondering how you're going to eat, drink, and gesture, just get yourself a cape blazer. You can loop your arms through this sleeveless coat, so you won't have to worry about the cape staying put. Plus, no one will be able to tell since the cape part drapes over your arms and shoulders. You will look incredibly sophisticated no matter what you wear with this blazer.
Amazon Essentials Plated Sterling Silver Cubic Zirconia Stud Earrings
Diamond stud earrings are just what you need to dress up your wardrobe. However, those can be pretty costly. Instead opt for these CZ stud earrings. They have 11,300+ five-star reviews from Amazon shoppers.
Dsane Womens Winter Leather Gloves Touchscreen Texting
Keep your hands warm this winter with these comfortable leather gloves. They're lined with super soft Italian cashmere, and here's the best part: you can even use touchscreen devices with the gloves on. These are essential, they look so stylish, and can snag them for just $20. They are available in 8 different colors.
ASOS Design Teddy Button Through Coat in Olive
This teddy coat is a little bit of a splurge, but we had to include it as an incredibly fashionable honorable mention. If you wear it every day, it's definitely worth the purchase. It's oh-so-soft, the olive color is just stunning, and you will get compliments everywhere you go.
If you're looking for more great fashion finds, check out these Amazon picks from The Real Housewives of Beverly Hills star Kyle Richards.
Want the latest and greatest deals and celebrity must-haves delivered straight to your inbox? Sign up for the Shop With E! newsletter!