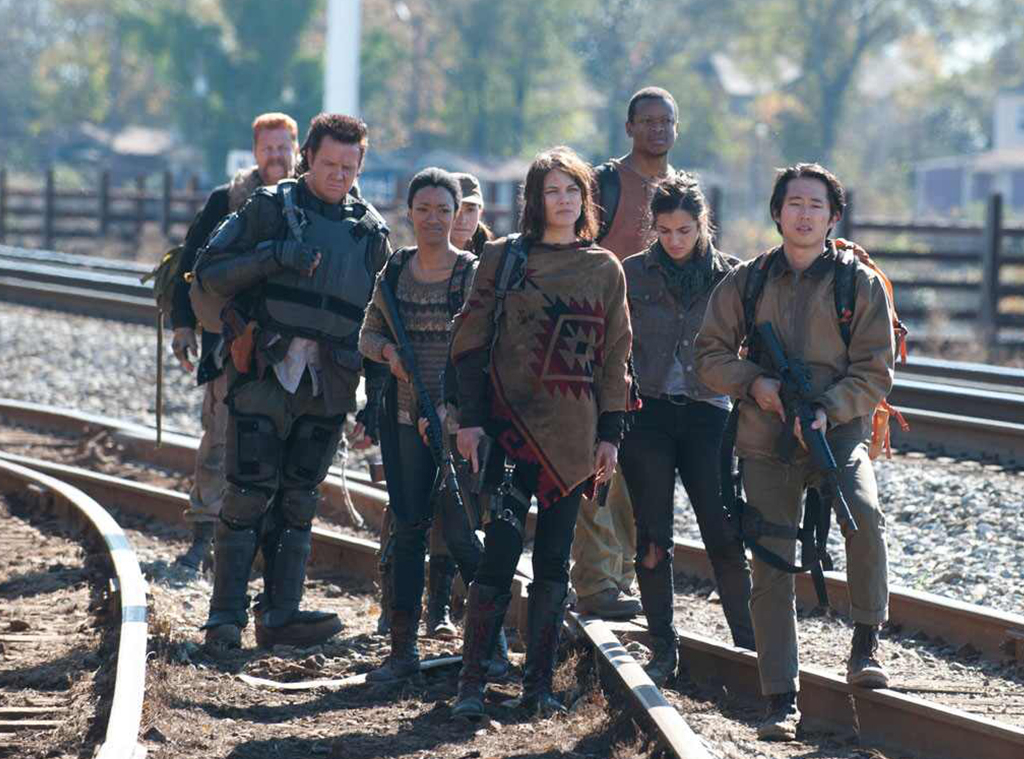 Gene Page/AMC
Hang onto your brains: The Walking Dead has officially been on for 10 years.
Whether it feels as if the AMC horror drama about the ragtag band of fighters born of the zombie apocalypse just started haunting your dreams yesterday—or if you really feel that decade in your creaky bones and increasingly limited capacity for plot twists leading nowhere—there's no question that the show based on Robert Kirkwood's comic book series forever altered the TV landscape.
Akin to what Game of Thrones did for dragons and medieval fantasy, The Walking Dead did for flesh-eating monsters, the show is at its roots a serious character drama about human behavior that just so happened to be unfolding against a hell scape of a United States that's been decimated by the undead. Though at this point it's probably fated to have only the one Golden Globe nomination for best drama series it received in 2011 and one Emmy win for makeup as far as prestige recognition, at its peak the series was one of the most-watched cable series ever and it logged considerable time as millions of viewers' TV obsession.
And despite some plot missteps in recent years (turns out, a double beloved-character bludgeoning isn't for everyone), it still has a chance to go out with a satisfying bang when its 11th and final season premieres next year...and the second half of that 11th season concludes in 2022, because of course.
But what a journey it's been so far.
Since premiering on Oct. 31, 2010, The Walking Dead has proved a prestigious stomping ground for its sprawling cast, launching standout Danai Gurira into the Marvel Cinematic Universe and turning Norman Reedus into a beer-swilling, motorcycle-riding sex symbol (he denied, however, a report that he was set to sign a $20 million deal following Andrew Lincoln's exit).
And it's been the subject of endless conversation fodder as it's veered between just the right amount of upsetting and way too dark, fascinatingly violent and "come on, man, really?"
Happy Halloween From "The Walking Dead": E! News Rewind
But, for all its lumbering toward the finish line, as audiences have fled for the streaming hills, it's remained the most-watched cable series, even with half the audience from its halcyon 15-million-viewers-a-week peak during season five.
So, in case your Halloween plans aren't all they're cracked up to be this year for reasons that at times can feel even scarier than a zombie apocalypse, spend part of The Walking Dead's 10th anniversary brushing up on the secrets of this team of scrappy warriors and their fiercely resilient show:
Wait, What? How Many People Are Watching?!
The creative team behind The Walking Dead certainly felt they had a great show on their hands—but they had no idea just how many people would warmly embrace their chilling horror series, which kicked off with one of the show's more obvious heroes, Andrew Lincoln's Rick Grimes, waking up from a coma and shooting a little kid in bunny slippers. (It's okay, she was a zombie.) Its premiere season averaged 5.2 million viewers a week.
"Honestly, I think they went up because of your cover article," executive producer Gale Anne Hurd told Entertainment Weekly in December 2010. "When you think about, it's still genre, and a lot of people might think, well, it's a zombie show it's not for me. But we've found that it has broader appeal than initial expectations."
Lincoln, a British actor at the time best known for his way with flashcards in Love Actually, also shared his pleasant surprise with EW that year. "I got an e-mail outlining the project," he recalled. "The first thing I read was 'AMC.' I went, 'Great! I've been waiting for an AMC opportunity!' Then it said The Walking Dead. Terrific title. Then the names. 'Frank Darabont.' 'Gale Anne Hurd.' Great. And then it said 'Zombie survival horror.' I think I actually did a literal double take. I was like, 'Really?!'"
It's as Dirty as It Looks
Sure, it's all make-believe, but the actors and crew really are spending long days and nights fending off mosquitos, inclement weather and that steamy Southern humidity in order to get the job done.
"It's a tough job," Norman Reedus, whose turn as unlikely warrior Daryl Dixon turned the actor into a bona fide sex symbol, told Rolling Stone in 2013. "We're out here running, getting bruised, with the heat and bugs. We've had people come do the show and halfway through, they're like, 'F--k this! It's 120 degrees outside.'"
Added Lincoln, "There's something in me that's definitely masochistic. If I don't feel it's true, the crew understands and goes, 'Keep rolling.'"
AMC, Jessica McGowan/Getty Images
Location, Location, Location
There was no gussying up Vancouver to look like the American South for this show. Rather, TWD cast and crew have become fixtures in Atlanta, Senoia, Ga., and surrounding environs over the past decade. Locals can get the chills anytime they want, filling up at the gas station on Cascade Palmetto Highway where Rick shot the little zombie girl in the season premiere, driving past Rick's old house from the before-times on Cherokee Avenue, or strolling up to Cobb Energy Center, which stood in for the exterior of the Centers for Disease Control and Prevention.
The actual CDC, about 15 miles away from its onscreen stand-in, has only been used in one film: Contagion, fittingly.
Heavy on the CGI
And Collier Metals on Windsor Street isn't usually full of bodies, so you're good.
Lonesome Road
No trains run alongside Freedom Parkway, which stood in for Atlanta's Interstate 85, so the derailed cars along the side of the road as Rick makes his way through the desolate capital are creative license. But few things are eerier than no people in a space that's supposed to be packed with human beings.
Geographical Expansion
Prequel series Fear the Walking Dead, now in its sixth season, started off in Los Angeles and Mexico before moving the action to Texas for season four, and the planned 20-episode The Walking Dead: World Beyond started shooting in Virginia last year. Citing the "explosive economic growth" experienced by rural Senoia thanks to TWD's presence there, the Virginia Film Office welcomed the opportunity for an influx of tourism dollars.
Michael Buckner/Getty Images for AMC
The Lawsuit That Won't Die
As audiences were discovering The Walking Dead back in 2010, there was a bit of a s--t show going on behind the scenes. Though it's long since been in the hands of others, TWD started out as a creation of filmmaker Frank Darabont (The Shawshank Redemption, Green Mile), adapted from Robert Kirkwood's comic book series and inspired by his longtime love of the genre that started with the seminal Night of the Living Dead.
Darabont served as showrunner, directed the pilot and co-wrote four of the six episodes that constituted season one, and both critical acclaim and millions of viewers awaited the gripping, graphically violent drama, which would become the next feather in AMC's cap alongside Mad Men.
But that December, after all that success right out of the gate, came a Deadline report that Darabont planend to fire his whole writers room. Hurd quickly sought to chop the head off of that rumor, clarifying that writer and executive producer Charles Eglee was leaving, and if anyone else was going it was to pursue other opportunities (as opposed to because Darabont was mad with power or something).
Production on season two got underway and Darabont took part in the series' panel at Comic-Con in July 2011—days before he was fired. He sued AMC in 2013 for breach of contract and what he felt was his rightful share of the millions TWD was earning, starting a years-long court battle that may outlive the show itself. Documents filed by the defense in 2017 stated that he had been axed over his "erratic and unprofessional performance," which included writing abusive emails and other "volatile and disturbing interactions with staff."
Darabont's team has argued that those emails have nothing to do with his deserved profit share and AMC was just muddying the waters with the more salacious reveals. The case (which is more convoluted than anything a roomful of sci-fi writers could come up with), encompassing this suit and another financial issue Darabont sued over in 2018, is now set to go to trial in April 2021.
Vivien Killilea/Getty Images for Diageo and Skybound Entertainment
Buried Treasure?
Not that it was all fun and games once Darabont left. In 2017, Hurd, Kirkman, Eglee, executive producer David Alpert and Glen Mazzarra, who succeeded Darabont as showrunner and left after season three (the announcement citing a "difference of opinion about where the show should go moving forward"), all filed suit against AMC for breach of contract. The plaintiffs alleged that the network was raking in money from their show but making it look through its accounting methods as if they were operating at a loss—and therefore was cheating them out of millions.
This fight, too, is still ongoing, with the Los Angeles Times reporting in July that a judge had ruled on the first leg of the battle, agreeing with AMC that it had been paying the producers per the terms of their deals and was not in breach of contract.
Just Shoot Me
Jeffrey DeMunn was pleased that the show was eating him alive.
The character actor, who's now on Billions, played Dale Horvath until the character's bloody end in 2011, an exit that DeMunn apparently asked for.
He had previously been directed by Darabont in The Shawshank Redemption and, he told Cleveland.com in 2018, "I immediately took to Frank and liked him and trusted him. And I think he trusted me." So when Darabont came calling about TWD, "I didn't have to think about it. It was Frank. I knew it was going to be quality."
DeMunn continued, "The writing in the beginning was just amazing, as was that original cast. You can't talk about The Walking Dead without talking about the extreme heat. I was always grateful for Dale's hat, by the way. It was serious heat and we were working all day. The heat had a way of uniting us all, cast and crew. You kept an eye on your friends under those conditions."
And when Darabont was fired, DeMunn basically followed him out the door. "Dale's death was my decision," he explained. "I was furious about how Frank was pushed out of the show. I spent a week not being able to take a full breath. And then I realized, 'Oh, I can quit.' So I called them and said, 'It's a zombie show. Kill me. I don't want to do this anymore.' It was an immense relief to me."
How the Mangling Happens
Though it's been underappreciated in the acting, writing and directing departments, The Walking Dead does have 16 Emmy nominations in technical categories, and was the winner in 2011 and 2012 for Outstanding Prosthetic Makeup for a Series, Miniseries, Movie or a Special.
Spoiler Alert?
Did Reedus give away Rick's ultimate non-ending?
"We haven't seen these characters, like, die or anything," the fan favorite told TV Insider when it was inquiring about Lincoln's approaching bittersweet exit from the series in 2018, knowing that the yet-to-air episode had been shot. (Reedus was referring to both Rick and Maggie, played by Lauren Cohan, who also left the show to star in the since-canceled Whiskey Cavalier and will be returning to TWD for season 11. And while his comment didn't necessarily portend that Rick and Maggie didn't die somewhere... they didn't "die or anything.")
It seemed hard to believe that TWD would miss an opportunity to go all out and break more hearts, but in the end, Rick Grimes lives, and is almost certainly destined for more action in this universe. While that's not really a bad thing, fans of the show couldn't help feeling a little ripped off.
"Rick Grimes is an amazing character and he's done an amazing performance and there were story ideas brewing that, as the years went on, seemed very compatible with continuing telling the Rick story in another format that would allow him time," AMC Chief Content Officer Scott Gimple told The Hollywood Reporter in response to the backlash after Lincoln's final episode.
Lincoln told THR about keeping his fate a secret, "I didn't want it to feel like an obituary tour. That's why I was quite keen for it not to be disclosed [in advance], so people could experience it real time [and go], 'What the hell?'"
Night of the Living Audience
To put The Walking Dead's numbers into perspective, at its peak in season five, the show averaged 14.38 million viewers a week, and the 17.3 million who watched that season premiere made it the most watched series episode in cable history.
Meanwhile, also on AMC, critical darling Mad Men was awash in Emmys but averaged at its peak (also season five, incidentally) only 2.61 million viewers.
No wonder the network has clung to TWD with both hands and never wants to let go.
The Sunny Side of the Apocalypse
Just because there were some issues on the business end of things doesn't mean that the actors haven't been having the time of their lives being part of such a monumental show.
"This is very much about completing something I'm very, very proud of," Lincoln explained to TV Insider after filming his final episode. "The overriding sense I had when I finished was great satisfaction."
And Reedus, for one, is apparently never leaving this world, because he and Melissa McBride are attached to continue on as Daryl and Carol in an as-yet untitled spin-off project. (They are more than free to call it Daryl & Carol, though.)
Albert L. Ortega/WireImage
I'm Just Writing What You're Thinking
"Apocalyptic storytelling is appealing when people have apocalyptic thoughts" Kirkman, who published his first issue of The Walking Dead in 2003 and kept churning out issues while serving as a writer and executive producer on the show, told Rolling Stone in 2013. "With the global economic problems and everything else, a lot of people feel we're heading into dark times. As bad as it is for society, I'm benefiting greatly."
It just so happened he abruptly ended the comics series after 193 issues in 2019. Probably for the best. Anything he would have come up with for 2020 would have been met with a "What's so scary about that?" shrug.
Speaking of which, the season 10 finale, originally set to air this past April, was postponed to Oct. 4 due to the pandemic—but the plan is now to add six bonus episodes to the same season next year, bringing the episode total to a broadcast-network-reminiscent 22. Meanwhile, production was in progress on season 11 this spring when they had to shut down as the real-life CDC became the center of all the action.
But while you wait, the fight for humanity's survival continues on Sundays with the double bill of Fear the Walking Dead and The Walking Dead: World Beyond.