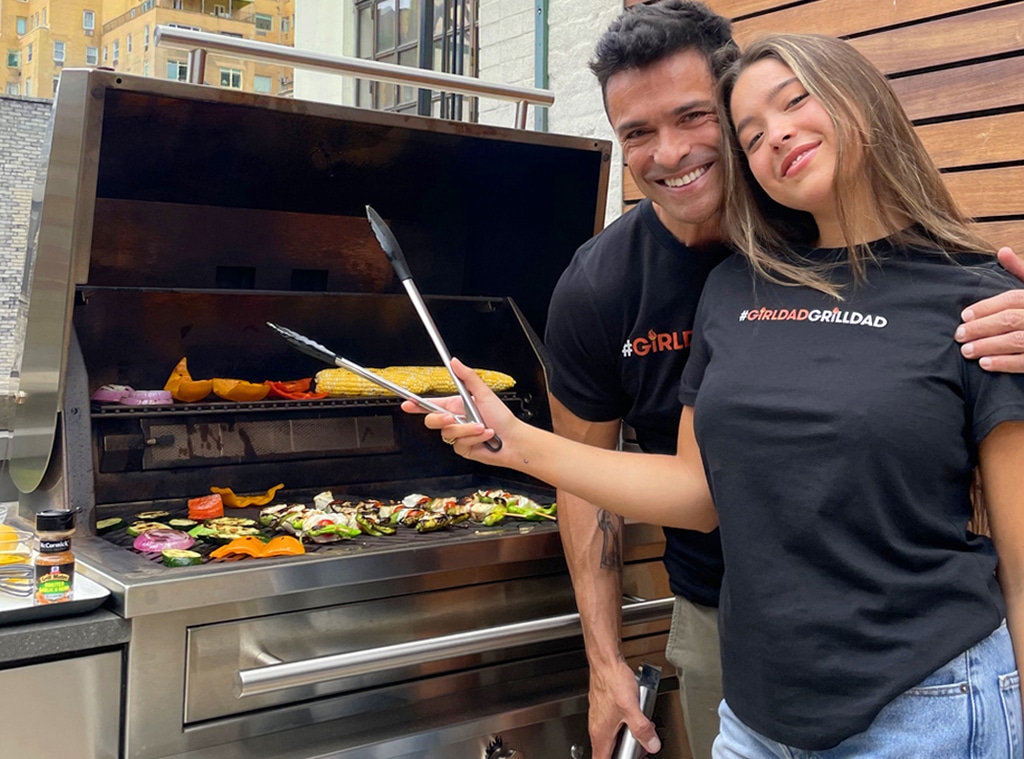 Cyril Guyot
Some of the products shown are from the celebrity's own product line or a brand they are paid to endorse. E! has affiliate relationships, so we may get a commission if you purchase something through our links. Items are sold by the retailer, not E!.
Mark Consuelos is a proud girl dad!
Ahead of Father's Day, the actor teamed up with McCormick Grill Mates to celebrate girl dads everywhere while raising awareness for Feeding America through the #GirlDadGrillDad social media challenge. The month-long challenge encourages dads and daughters to spend time by the grill and create delicious memories together.
"My relationship with Lola is so special as she is my only daughter. She made me a girl dad when she was born on June 16, 2001, the Saturday before Father's Day, and it was the best Father's Day gift I could have ever asked for," Mark explained. "Fast forward 20 years, and here we are in 2021, celebrating Father's Day and Lola's 20th birthday together by the grill while giving back with #GirlDadGrillDad – it's amazing! Helping others has always been a central tenet for our family and it's exciting to see Lola continue that as a young adult."
Cyril Guyot
In addition to helping provide 1.5 million meals to Feeding America to serve families in need, the Riverdale star is sharing his Father's Day gift ideas, plus his top summer grilling essentials and tips.
Scroll below to check out the gifts and grilling must-haves that will add some heat to your Father's Day celebrations and make any grill dad oh so happy!
McCormick Grill Mates Roasted Garlic & Herb Seasoning
"For a Father's Day gift, you can't go wrong with a great set of spices as they can really make the protein you're grilling even more delicious. I recommend setting dad up for success with a spice blend like McCormick Grill Mates Roasted Garlic & Herb or Montreal Steak seasoning as they take the guesswork out of seasoning your meal."
Camp Chef SmokePro STX Wood Pellet Outdoor BBQ Grill and Smoker
"If you really want to go all out, a new smoker or grill is an incredible gift idea."
Fulton Fish Market Prime Fresh Atlantic Halibut - 4 Pack
"My whole family enjoys fish, especially in the summer, so we always try to have fresh fish in the house for us to quickly grill. I find that firmer fishes like halibut or swordfish hold up better when grilling. To me, there is nothing better than grilling up delicious meal and enjoying it outside with my family."
Fresh Lemons
"We love having fresh lemons in the house as we use it to flavor so many parts of our meals, especially when we're cooking fish."
Fresh Shishito Chili Peppers- 2 lbs.
"I love adding a little heat to my food and I'm always trying to sneak some hot peppers from the garden into our meals. Shishito peppers are fun because it's like playing pepper roulette. You never know who has that one in 30 chance of getting the pepper with the real fiery kick. I also love the flavor of chipotle and habanero peppers. When we go down to the Caribbean, they have those Scotch bonnet peppers - I honestly start to sweat with excitement just thinking about them."
Olive Oil
"We're all about keeping things simple in the kitchen and on the grill. We will use a little olive oil to allow the taste of the seafood and veggies we're grilling to shine through, but it also helps our seasonings stick."
Now that dad has all the essentials he needs to grill up masterpieces all summer, make sure to attach Mark's summer grilling tips to dad's gift!
When using wooden skewers while grilling, you should always soak them in water for around 30 minutes to ensure they don't burn when they're placed on a hot grill.
Flip the protein as few times as possible – once is usually enough.
When grilling my favorite – fish – if you're not skewering, try using foil. It helps distribute the heat evenly and prevents any fish from flaking off and falling into the flames.
Allow your seasoning or marinade to sit for a few hours to guarantee a robust and delicious flavor. If you don't have the time to wait, you can massage the seasoning into your protein using a resealable bag. A few minutes of massaging can be equal to hours of marinating time.
The right tools can make a big difference. Nothing beats a quality spatula and tongs, but people often forget the cooling rack. The protein you're grilling continues to cook a bit after taking it off the heat. Putting your protein on a cooling rack after taking it off the grill will get everything to the perfect temperature.
Always make sure you're starting to cook your meal with a clean grill
Still looking for the perfect gift for dad? Check out all of our Father's Day gift guides.
Want the latest and greatest deals and celebrity must-haves delivered straight to your inbox? Sign up for the Shop With E! newsletter!